Through HIS death --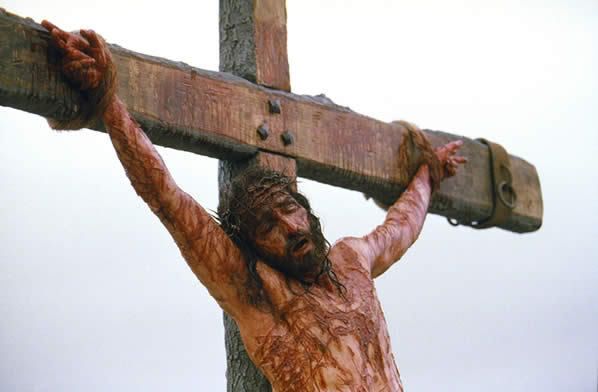 Jesus Christ voluntarily gave His life in your place to pay the pricetag for the penalty of sin that was attached to your life. 
Through HIS burial --
 He conquered all the tricks and power of satan, and then
Through HIS resurection --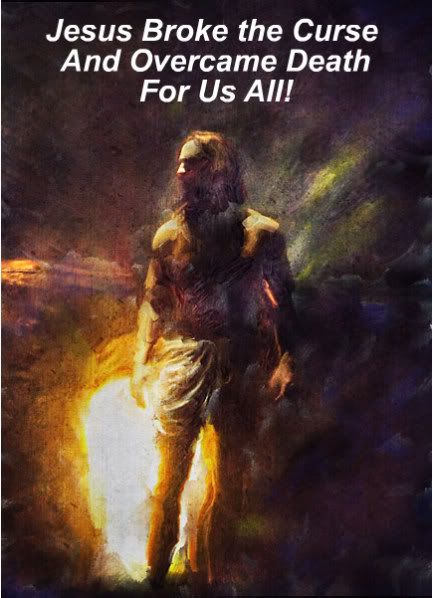 HE rose from the dead to seal the deal!  Now the only power the enemy has over us as humans is what we allow him to have, by choice or by being uninformed of HOW WE ARE
ALREADY FREE, CLEAN AND HEALED!! 
If you have not acknowledged Jesus Christ as this One and Only Savior, for here and eternity, and asked Him to make you His own, honor Him today and from now on by believing and accepting that He is Who He says He is, that He does and will do all that He says He's done, does and will do, and that He WILL BE BACK - to take His people home to Himself in peace, to judge the world and to set everything in order once and for all time!
Belonging to God and becoming a partner with Him is easy!  Just realize and admit that you are without Him and His power in your life, that you need a new nature and attitude toward Him, life and others, and that you believe His shed blood on Calvary's cross poured out to forgive, save, protect and prosper YOU! 
 Ask Him to come into YOUR life and heart and make the supernatural changes that only He can make!!  Ask Him to forgive you for all disobedience and rebellion in you (better known as "sin"), that is there involuntarily or by choice!  Then believe and KNOW THAT HE DOES FORGIVE YOU IMMEDIATELY AND FOR EVER!  BUT DON'T STOP THERE!  NOW ask Him to fill you with HIS SPIRIT (HIS POWER) to enable you to LIVE a new life according to His Word and ways! 
NOW YOU ARE HIS!! IT'S THAT EASY!
YOU WILL NEVER BE THE SAME -- THAT'S THE GOOD NEWS, PEOPLE!!!
THANK AND WORSHIP HIM CONTINUALLY FOR THE REST OF YOUR DAYS AND NEVER, EVER QUIT OR TURN BACK!!
I John 1:9 - "If we confess our sins, HE IS FAITHFUL AND JUST(righteously reliable) to FORGIVE US OUR SINS, AND TO CLEANSE US FROM ALL UNRIGHTEOUSNESS!"
Get to know Jesus' love for you through this video; click the link below!
Just to Be With You (Love, Jesus) byThird Day
If you have come to know Jesus in the past and need refreshing and resoration, He is always there for you, too!! "Repent, so that your sins may be blotted out and the times of refreshing may come...!"  Acts 3:19-21
"Acquaint yourself with Him now and be at peace, and that's how good will come to you...If you return to the Almighty, you will be built up!"  Job 22:21-30 
 "The Lord bless you and keep you; The Lord make His face shine upon you and be gracious to you; The Lord lift up His countenance (expressions) upon YOU and give you Peace!"  Numbers 6:24-27
HAPPY RESSURECTION DAY -- EVERYDAY!!